Bit Beast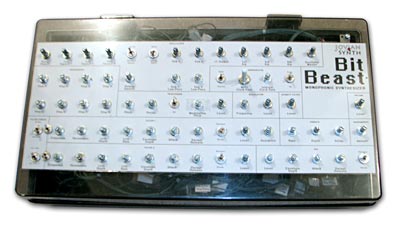 The Bit Beast is not currently in production. The estimated cost is about $500-$600. Please send us an email if you would like to be notified when more information and availability is known - info@joviansynth.com
The Bit Beast utilizes a method of tone generation commonly called 'bit banging'. It turns a digital bit on and off at the frequency of specific notes. This method of creating sounds is typical of old videogame and computer systems.
The processor that reads the MIDI signal and 'bit bangs' the notes is the same one used by the Arduino UNO (ATMEGA328P-PU). All the code is written and compiled in the Arduino software. This means that anyone with an Arduino UNO can edit and tweak the code. This will allow musicians to customize their synth to some degree, and expand upon the base functionality.
The notes are then chopped up and processed using CMOS logic chips. The effects created are common in the DIY realm, but seldom available in commercially available synthesizers.
The sound then passes through two analog voltage controlled filters. Both filters are unique designs that offer very different sounds. Filter 1 is a 12db state variable filter with low-pass and band-pass modes and overdrive control. Filter 2 is a 6db filter with low-pass and high-pass modes and a squelchy distorted resonance. The filters can be configured in parallel or two different serial configurations. Both filters have their own LFO and envelope generator.
The final step that the sound passes through is an analog VCA with a dedicated envelope generator.
---
Features
Oscillators
Programmable with Arduino UNO developement board
3 digital squarewave oscillators that play either a chord or the same detuned note (detune amount is controlled with a pot)
Chord selection can be Major or Minor and is controlled with either a swtich or using MIDI CC
Eight step wave shaper for creating custom 8-bit style waveforms
Two sub oscillators (-1 ocatave and -2 octave) each with a dedicated low-pass filter
An oscillator that is +1 octave
Responds to MIDI pitch bend and modulation controls
Vibrato with rate, depth and delay controls
Portamento
Level pots for each oscillator, plus a master oscillator level control
Oscillators
Chord arpeggio that makes it easy to create chiptune chords
Internal clock or MIDI sync
Up or down direction
Separate level pots for each step of the chord
Can be combined with with the steady sound from any of the oscillators
Percussion
CMOS percussion sound triggered on each note
Controls for pitch, delay, modulation pitch and level
CMOS Effects
Modulation effect with pitch and level control
Schmitt filter effect that can add distortion, phasing and varying pulse width modulation.
Dual Analog Filters
Configurable to run in parallel or serial mode
Serial mode can be set to Filter 1->Filter 2 or Filter 2->Filter 1
Filter 1

12db per octave
Low-pass or band-pass
Overdrive control
Frequency cutoff control
Resonance control
Dedicated LFO
Dedicated AD/R envelope generator
Custom filter design with traditional analog sound

Filter 2

6db per octave
Low-pass or high-pass
Frequency cutoff control
Resonance control
Dedicated LFO
Dedicated AD/R envelope generator
Custom filter design with very unique resonance (squelchy and distorted)
Analog VCA
Level control
Dedicated AD/R envelope generator
Inputs/Outputs
1/4" mono audio out
MIDI IN
MIDI THRU
2.1mm power
Power